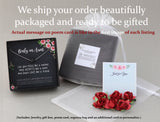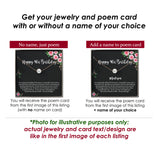 BeWishedGifts
Wedding Day Gift for bride from Groom, To my Beautiful Bride Gift from Groom to Bride Gift Wedding Day
*Necklace is to be used with your own essential oils*
Essential oil aromatherapy jewlery combine 2 wonderful things into one: essential oils and natural stones. they are more than just a fashion statement. They are a healing force that can relieve stress, increase confidence, and just make your day seem a little bit brighter. Adding the oils to the jewelry is really easy. The lava rocks are porous and work as natural diffusers. Just put a drop of oil on your finger and rub it into the lava stones.
Lava Stones are regarded as a symbol of courage, endurance, strength & fertilty. they are believed to increase energy, provide stability in tumultuous times and guidance, clarity and hope in difficult times.
Celebrate the eternal bond between you and your loved one with this stylish top quality handmade jewelry gift.
It comes gift-wrapped with a heart felt message that gets it "spot on"- making it not only a perfect but meaningful present.
It is durable and meticulously handcrafted from only the best materials.
Because we believe that good gifts should not only be beautiful & thoughtful, but that they should last and be cherished.
H O W _ T O _ U S E ?
Drop some of your essential oils on the lava stone. Wait a few minutes for the oil to be absorbed. Wipe off the remaining essential oil with a clean cloth. Wear your necklace and enjoy the fragrance.
D E T A I L S
> 100% Handcrafted with love from top quality materials only!
> Natural black lava stone.
> SOLID high quality 925 sterling silver or 14K gold-filled chain (not just plated - perfect for sensitive skin)
> Necklace chain is our exclusive ultra-shine strong chain.
> Nickel-Free
L E N G T H
> necklace is 18" long
P R O C E S S I N G _ T I M E
> It takes us 1 - 2 business days to prepare and ship your order.
> We ship packages Mondays-Fridays. We do not ship on Saturdays-Sundays or holidays when the USPS is closed.
S H I P P I N G _ T O _ T H E _ U S A
> Regular Shipping to the USA takes 2-5 business days.
Therefore, it generally takes 3 - 7 business days (PROCESSING + SHIPPING) after the order date to receive your order.
> Expedited shipping upgrade is available (you can choose this option once you are in the cart) takes 1-3 Business days (usually 24 to 48 hours max.)
Therefore, it generally takes 2 - 4 business days (PROCESSING + SHIPPING) after the order date to receive your order.
S H I P P I N G _ R E S T _ O F _ T H E _ W O R L D
>International EXPEDITED Shipping (UPS / DHL)
Takes about 2-4 business days to reach its destination.
> Buyers are responsible for any customs and import taxes that may apply.