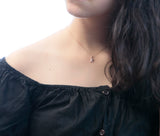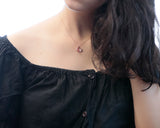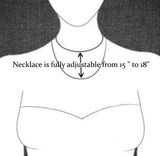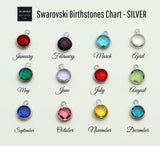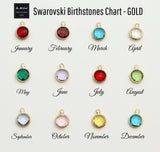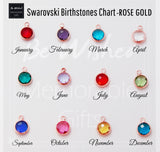 BeWishedGifts
Daughter Gift from Mom and Dad
Celebrate the unique bond between you and your daughter and show her how thankful you are to have her in your life with this stylish top quality handmade jewelry gift.
This dainty star charm necklace represents the eternal bond between two special people. A symbol of the importance of that person in your life.
It comes gift-wrapped with a heart felt message that gets it "spot on"- making it not only a perfect but meaningful present.
It is durable and meticulously handcrafted from only the best materials.
Because we believe that good gifts should not only be beautiful & thoughtful, but that they should last and be cherished.
D E T A I L S
> 100% Handcrafted with love from top quality materials only!
> SOLID high quality 925 sterling silver or 14K gold-filled.
> Chain is our signature super sparkly cable chain.
> Pendant is polished to a high shine and hangs beautifully from chain - making this necklace perfectly minimal & perfect for daily wear.
> Nickel-Free
L E N G T H
> Necklace length: For added versatility the chain is fully adjustable from 15 " to 18"
(Can be worn either as a choker necklace or as an every day classic princess length necklace - AND it can fit girls and women alike)
C H A R M _ S I Z E
> Star Charm measures 20mm / 0.78"
> OPTIONAL: add a swarovski birthstone
P R O C E S S I N G _ T I M E
> It takes us 1 - 2 business days to prepare and ship your order.
> We ship packages Mondays-Fridays. We do not ship on Saturdays-Sundays or holidays when the USPS is closed.
S H I P P I N G _ T O _ T H E _ U S A
> Regular Shipping to the USA takes 2-5 business days.
Therefore, it generally takes 3 - 7 business days (PROCESSING + SHIPPING) after the order date to receive your order.
> Expedited shipping upgrade is available (you can choose this option once you are in the cart) takes 1-3 Business days (usually 24 to 48 hours max.)
Therefore, it generally takes 2 - 4 business days (PROCESSING + SHIPPING) after the order date to receive your order.
S H I P P I N G _ R E S T _ O F _ T H E _ W O R L D
>International EXPEDITED Shipping (UPS / DHL)
Takes about 2-4 business days to reach its destination.
> Buyers are responsible for any customs and import taxes that may apply.
W H Y _ B E W I S H E D
Established at 2008, our jewelry studio is a well renowned, experienced jewelry studio that strives to create high quality, durable jewelry.
When you order one of our pieces you can be sure you are getting the absolute best quality jewelry that is handmade with love, by people who really love what they do!
T H E _ P E R F E C T _ G I F T
A PERSONAL gift that shows that special someone just how much you care about them and how important the bond between you is.
A RELEVANT gift that takes into account that unique person's personality and interests or the occasion that you wish to celebrate.
A HEARTFELT gift that will touch their soul and make them smile.
A LONG LASTING top quality gift they will cherish forever.
W H A T _ I S _ 1 4 K _ G O L D F I L L E D?
> 14k gold fill is a beautiful more affordable alternative to solid gold as it is a genuine layer of gold permanently bonded onto base metal with heat and pressure that contains 100+ times more gold than gold plated.
> It is extremely durable, won't chip or flake, is tarnish resistant, and is a great alternative to expensive solid gold jewelry. It looks great and with proper care, it will last for over 10 years. Gold fill jewelry can also be worn by people with sensitive skin
Pls feel free to contact us with any question regarding this item, processing, shipping & arrival times