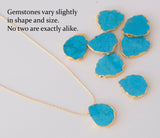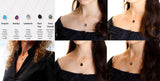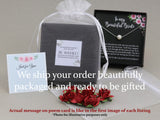 BeWishedGifts
Encouragement gift
** OPTIONAL - Add Recipient's Name and/or your own closing sentence to your Poem **
Give some love and support to someone that is going through hard times with this stylish top quality handmade jewelry gift.
It comes gift-wrapped with a heart felt message that gets it "spot on"- making it not only a perfect but meaningful present.
This vibrant gold electroplated turquoise slice hangs beautifully on a shimmering 14k gold filled chain necklace.
Turquoise slices vary slightly in shape and size, no two are exactly alike.
It is durable and meticulously handcrafted from only the best materials.
Because we believe that good gifts should not only be beautiful & thoughtful, but that they should last and be cherished.
D E T A I L S
> 100% Handcrafted with love from top quality materials only!
> High quality 14K gold-filled chain.
> Turquoise necklace chain is our exclusive ultra-shine strong chain.
> Gold electroplated turquoise slice pendant hangs beautifully from chain - making this necklace a perfect choice for daily wear.
> Nickel-Free
N E C K L A C E _ L E N G T H
> Please select your desired chain length from the drop down menu.
Model is wearing a 16" turquoise necklace.
P E N D A N T _ S I Z E
> approx. 11-14 mm X 12-16 mm (each piece is naturally formed and unique)
P R O C E S S I N G _ T I M E
> It takes us 1 - 2 business days to prepare and ship your order.
> We ship packages Mondays-Fridays. We do not ship on Saturdays-Sundays or holidays when the USPS is closed.
S H I P P I N G _ T O _ T H E _ U S A
> Regular Shipping to the USA takes 2-5 business days.
Therefore, it generally takes 3 - 7 business days (PROCESSING + SHIPPING) after the order date to receive your order.
> Expedited shipping upgrade is available (you can choose this option once you are in the cart) takes 1-3 Business days (usually 24 to 48 hours max.)
Therefore, it generally takes 2 - 4 business days (PROCESSING + SHIPPING) after the order date to receive your order.
S H I P P I N G _ R E S T _ O F _ T H E _ W O R L D
>International EXPEDITED Shipping (UPS / DHL)
Takes about 2-4 business days to reach its destination.
> Buyers are responsible for any customs and import taxes that may apply.