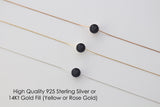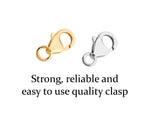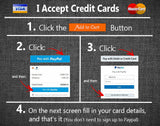 BeWishedGifts
Funny Lawyer Gift for Women
*Necklace is to be used with your own essential oils*
Essential oil aromatherapy jewlery combine 2 wonderful things into one: essential oils and natural stones. they are more than just a fashion statement. They are a healing force that can relieve stress, increase confidence, and just make your day seem a little bit brighter. Adding the oils to the jewelry is really easy. The lava rocks are porous and work as natural diffusers. Just put a drop of oil on your finger and rub it into the lava stones.
Lava Stones are regarded as a symbol of courage, endurance, strength & fertilty. they are believed to increase energy, provide stability in tumultuous times and guidance, clarity and hope in difficult times.
Celebrate the special bond between you and a special woman in your life with this stylish top quality handmade jewelry gift.
It comes gift-wrapped with a heart felt message that gets it "spot on"- making it not only a perfect but meaningful present.
It is durable and meticulously handcrafted from only the best materials.
Because we believe that good gifts should not only be beautiful & thoughtful, but that they should last and be cherished.
H O W _ T O _ U S E ?
Drop some of your essential oils on the lava stone. Wait a few minutes for the oil to be absorbed. Wipe off the remaining essential oil with a clean cloth. Wear your necklace and enjoy the fragrance.
D E T A I L S
> 100% Handcrafted with love from top quality materials only!
> Natural black lava stone.
> SOLID high quality 925 sterling silver or 14K gold-filled chain (not just plated - perfect for sensitive skin)
> Necklace chain is our exclusive ultra-shine strong chain.
> Nickel-Free
L E N G T H
> Choose between 16" or 18" (most popular)
> Model in photo is wearing 18" length
P R O C E S S I N G _ T I M E
> It takes us 1 - 2 business days to prepare and ship your order.
> We ship packages Mondays-Fridays. We do not ship on Saturdays-Sundays or holidays when the USPS is closed.
S H I P P I N G _ T O _ T H E _ U S A
> Regular Shipping to the USA takes 2-5 business days.
Therefore, it generally takes 3 - 7 business days (PROCESSING + SHIPPING) after the order date to receive your order.
> Expedited shipping upgrade is available (you can choose this option once you are in the cart) takes 1-3 Business days (usually 24 to 48 hours max.)
Therefore, it generally takes 2 - 4 business days (PROCESSING + SHIPPING) after the order date to receive your order.
S H I P P I N G _ R E S T _ O F _ T H E _ W O R L D
>International EXPEDITED Shipping (UPS / DHL)
Takes about 2-4 business days to reach its destination.
> Buyers are responsible for any customs and import taxes that may apply.
W H Y _ B E W I S H E D
Established at 2008, our jewelry studio is a well renowned, experienced jewelry studio that strives to create high quality, durable jewelry.
When ordering a jewelry gift from Be Wished you can rest assured you will be getting a 100% top quality jewel that is 100% handmade with love.
Because making beautiful quality gifts that bring joy to people has been our passion for years.
T H E _ P E R F E C T _ G I F T
A PERSONAL gift that shows that special someone just how much you care about them and how important the bond between you is.
A RELEVANT gift that takes into account that unique person's personality and interests or the ocasion that you wish to celebrate.
A HEARTFELT gift that will touch their soul and make them smile.
A LONGLASTING top quality gift they will cherish forever.
W H Y _ BUY _ 1 4 K _ G O L D F I L L E D?
> Gold filled jewelry is an economical and durable alternative to solid gold. Solid gold is an exquisite piece of jewelry – BUT it is both very expensive and since it is a soft material it is susceptible to nicks, dents and bending. Gold filled is a much stronger material that gives you the beauty of gold, without the heavy cost.
> Gold-filled jewelry is much more valuable than gold-plated. In fact, there is almost 100 percent more gold in gold-filled items than found in gold-plated items. It will not chip, fade, wear-away and tarnish – making it is the best option where longevity and durability are a must – such as for Gifts to meaningful people in your life – when you want the gift you give to last for a long time and to be worn on a daily basis.
> Gold filled jewelry can get wet and can be worn in the shower - you can leave it on without the gold rubbing off like plated jewelry.
>Gold-filled jewelry is a great solution for people that have sensitive skins or allergies from metals such as nickel
Pls feel free to contact us with any question regarding this item, processing, shipping & arrival times