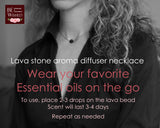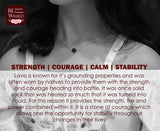 BeWishedGifts
Birthday Gift for Godmother
*Necklace is to be used with your own essential oils*
Essential oil aromatherapy jewlery combine 2 wonderful things into one: essential oils and natural stones. they are more than just a fashion statement. They are a healing force that can relieve stress, increase confidence, and just make your day seem a little bit brighter. Adding the oils to the jewelry is really easy. The lava rocks are porous and work as natural diffusers. Just put a drop of oil on your finger and rub it into the lava stones.
Lava Stones are regarded as a symbol of courage, endurance, strength & fertilty. they are believed to increase energy, provide stability in tumultuous times and guidance, clarity and hope in difficult times.
Celebrate the special bond between you and a special woman in your life with this stylish top quality handmade jewelry gift.
It comes gift-wrapped with a heart felt message that gets it "spot on"- making it not only a perfect but meaningful present.
Materials: TOP QUALITY MATERIALS ONLY, 925 Sterling Silver, 14K Gold Filled, Nickel Free.